Inspiration To Live Better
You deserve it all – and you'll find it right here.
Recipes. Product Testing.  Personal posts about what's helping me live better right now.
So come join me…pull up a chair and enjoy reading about my favorite lifestyle solutions…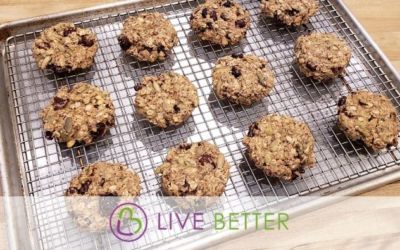 Cookies for breakfast? Why not! Especially if they are good for your digestive track AND taste this good!
read more
Nothing says comfort food quite like meatloaf! This Italian twist on the All American traditional meatloaf is sure to please meatloaf lovers!
read more
A wonderful conversation with my Mom on her 88th birthday about embracing getting older and some secrets to living well!
read more
If it's chilly outside, this soup will be sure to satisfy your craving for something rich and creamy!
read more
Now more than ever, don't wait…take the chance, just do it…
read more
Nothing like a little competition between four different gluten free pastas…I give each of them a good going over!
read more
These delicious, easy to make wraps are a healthy lunch, dinner or snack option to have on hand for those times you are craving something a little Southwest!
read more
This dish is so simple and satisfying, yet impressive enough to be called "company worthy".
read more
This is a perfect recipe for those that aren't really sure they will like fish…it never disappoints! So easy and SO delicious!
read more
Tacos…why do we love them so? This simple fish taco recipe will be sure to satisfy that craving for peace, love and TACOS!
read more
Nothing compares to the aroma…and taste of freshly baked bread. This recipe will make that easy to enjoy even if you don't LIKE to bake!
read more
There is such comfort knowing dinner is ready without having to cook! Cook once, eat two or three times using proper freezing methods!
read more
Soup is so forgiving and a great way to experiment with ingredients and flavors!
read more