After bringing Better Lifestyle Solutions to life, I learned that the best way to share my "solutions" was by blogging about them. You will find a variety of posts here from recipes and product recommendations to more personal in nature, an experience I had that might resonate with you. Please take a look around, you might discover some posts here that inspire you, teach you something new and help you LIVE BETTER!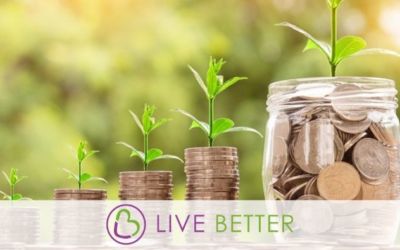 I was having a conversation on the phone a few days ago with a friend and horse trainer colleague I've known for over 30 years. The subject of retirement came up, which of course circled around to money and is exactly why I am writing this post.
read more
When ALS raised it's ugly head and took Pat's speech from her, she adjusted. As her balance became an issue, she adjusted. You see, Pat's LIVING her life…
read more
As 2017 is coming to a close, there is that anticipation of New Year's resolutions and setting goals for 2018. I've never been a big "resolution" person, but I do like looking ahead towards the New Year with setting some new goals.
read more
OK… I get it…. you are wondering "what in the world is a PFC muffin"… There is a good chance if you pop in and read some of my blog posts, that you might find me referring to "eating PFC". PFC is short for Protein, Fat, and Carbohydrate and when these elements are in balance, so is your blood sugar.
read more
This minestrone soup, actually more like a stew, is packed with nutrition, is so satisfying and I knew she would love it. Have fun with this recipe by swapping out some of ingredients for other options….I've made some notes below in the recipe!
read more
It became VERY CLEAR that I learned how to do something quite simply by JUST DOING IT. Over and over and over again…. and eventually, I got good at it.Was there pain? Sure, but not unbearable. Were there frustrations? Absolutely, but worth it.
read more
I would like to begin this post with an apology. I have been putting off this particular post because I was waiting for the "right" time to take the video. Ridiculous excuse. And I'm leaving for vacation (Hawaii…with my bestie…51 years of friendship) tomorrow, so I needed to get on it.
read more
While I'm in my kitchen cooking, I have the luxury of being able to listen to audio books, podcasts, Youtube interviews. And most of the time, my brain craves inspiration and growth. 5..4..3..2..1 GO….
read more
This is absolutely one of my favorite "go to" recipes. It is so simple and the combination of flavors appeals to everyone. I am using this "filling" in tortillas here, but you can stuff peppers, tomatoes or just eat as is….hot or cold!
read more
About 3 years ago, I started doing a little art… some painting. Just for fun. What I discovered was how much I LOVED it. It was challenging, but I savored that challenge and was proud of each "creation" I finished. I could look at a finished piece and relive the feelings I had while creating it.
read more
I'm quietly chuckling as I start to write this post. When I first started putting together in my head what I wanted to actually "do" on my blog, this kitchen island I'm going to tell you about played a big part. Video in the post!
read more
I know it's winter time and it always SEEMS like that's when everyone is more susceptible to falling under the weather, so to speak. But what if the weather really wasn't the issue? I believe other issues play a part…
read more
Quesadillas are quick, easy and perfect as a snack or light meal. It's even better when you have a supply on hand in the freezer ready to go when you really aren't in the mood to be "creative". This article comes with a video!
read more