Inspiration To Live Better
You deserve it all – and you'll find it right here.
Recipes. Product Testing.  Personal posts about what's helping me live better right now.
So come join me…pull up a chair and enjoy reading about my favorite lifestyle solutions…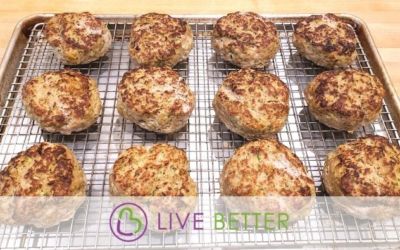 Summertime screams burgers on the grill…but when it's 93 degrees out, these indoor burgers are a great alternative!
read more
You can never have too many soup recipe ideas! I loved putting this "post Thanksgiving dinner" soup together and will freeze half of this big pot for another dinner down the road!
read more
Winter is right around the corner and sometimes there isn't anything more comforting than a warm bowl of soup. This recipe is so, so easy to prepare ahead and freeze to cook later or put together right away to enjoy for dinner!
read more
This recipe really surprised me…I was doubtful really…but this blend of flavors and ingredients did NOT disappoint and I will be adding this recipe to my favorites file!
read more
It's a given…we all know it's important to eat more vegetables and sometimes nothing hits the spot like a salad!
read more
Winter brings on the cry for comfort food and this twist on chili will surely satisfy that craving while doing your body good!
read more
A hot cup of coffee paired with a warm, pumpkin muffin is an amazing way to start the day!
read more
It's such a joy when you are able to pull a meal together from ingredients you already have on hand…my idea of setting yourself up to WIN!
read more
Is your kitchen a "happy place"? Life is so much better when it is! Learn about some of my favorites that make life in the cooking zone so much more enjoyable!
read more
Nothing says comfort food quite like meatloaf! This Italian twist on the All American traditional meatloaf is sure to please meatloaf lovers!
read more
A wonderful conversation with my Mom on her 88th birthday about embracing getting older and some secrets to living well!
read more
If it's chilly outside, this soup will be sure to satisfy your craving for something rich and creamy!
read more
Now more than ever, don't wait…take the chance, just do it…
read more