It's Friday, the day after Thanksgiving…
We had the pleasure of being invited to be with some wonderful friends for Thanksgiving dinner.
We were told not to bring anything, but we did insist on bringing dessert and happily showed up with an apple and a pumpkin pie….yes, you guessed it…from Costco…both were delish!
When the meal was over, like most Thanksgiving meals, there were OODLES of leftovers. Diane, our hostess, insisted we take home most of the leftover turkey…and I obliged.
In the video above, I share a frozen roasted vegetable discovery I made at Costco earlier this week and it is included in this recipe.
For those of you that have been following my recipes and cooking style, it is VERY "By Gosh or By Golly"….so quite often, the measurements are vague.  I encourage you to "make it your own" and use my suggestions as INSPIRATION and substitute with what you have on hand…keep it SIMPLE and easy on yourself!
Here is the PuraVida Foods website…and you can search by your location! https://puravida-foods.com/
And for those of you that would like to receive my monthly newsletter, here's an invite! https://betterlifestylesolutions.com/invitation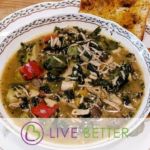 Print
Turkey And Roasted Vegetable Soup
Ingredients
2

quarts

chicken broth

1/2

bag

PuraVida Roasted Vegetable Melange

1

10 - 12 oz

frozen chopped spinach

6 - 10

cups

chopped cooked turkey

2

cups

mashed potatoes

optional - I had some in the freezer I wanted to use up.

dried porcini muchroom power

smoked Spanish paprika

cumin

salt and pepper
Instructions
Add broth to a large soup pot and bring to a simmer.

Add the vegetables, except for the frozen spinach. bring back to a simmer.

Add the diced turkey and taste for salt and pepper, add to taste.

This is the order I added the seasonings, tasting after each:

Porcini powder, smoked Spanish paprika, cumin...substitute with whatever YOU like!

Add the frozen chopped spinach and warm through and serve....with crusty bread!