Feel Better Look Better Results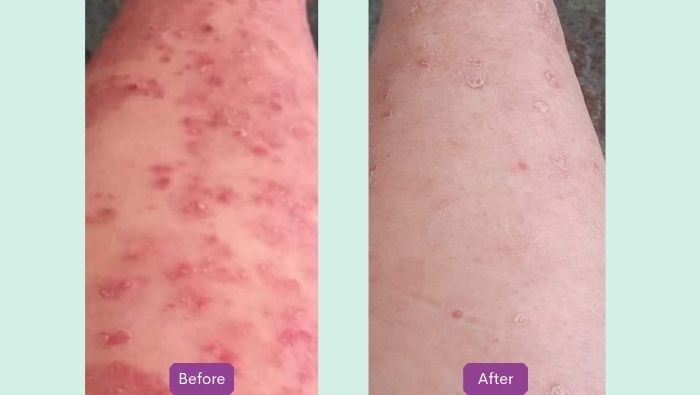 The Heartbreak of Psoriasis…
A picture can be worth a thousand words…
So many people can relate to this before and after picture of my friend, Lisa's arms.
I suffered from psoriasis for years. Discovering a holisitc internal solution to this awful auto immune skin issue has been life changing for so many people.
Lonicera Longevity delivers our master anti oxidant, glutathione in two powerful ways, helping your body heal and thrive!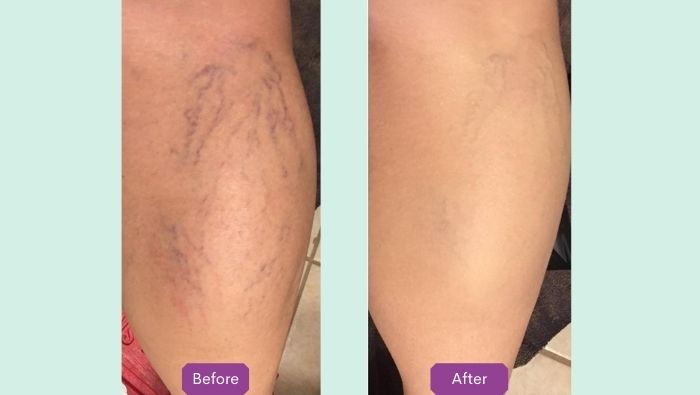 Concealing varicose veins
NV BB Perfecting Mist Foundation is water proof and can be layered to conceal varicose veins and cover tattoos!
Coverage lasts until removed with soap or cleanser.
The young lady who modeled the veins on her legs never wore shorts or skirts because she was self conscious, even though she has gorgeous legs.
The NV has made it a possible for her to feel great about her legs now!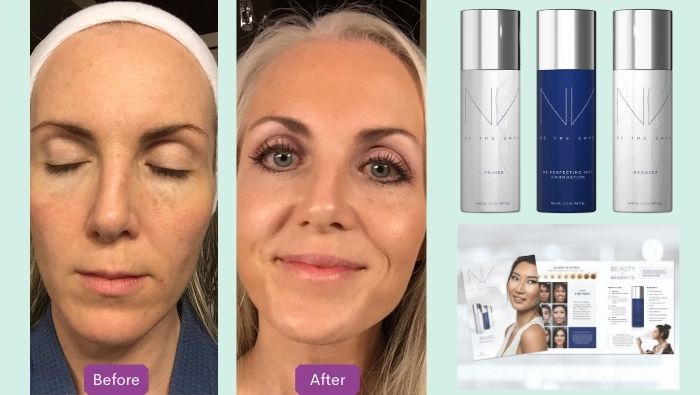 Beauty with Benefits
No other makeup can claim "beauty with benefits" like NV!
A beautiful makeup with the benefits of the Luminesce Skin Care products included in the formula, this air brush foundation is so light, yet build able and can be applied with the airbrush finish or with a makeup brush, sponge or your fingers.
It is "first time fresh" with each application as all the pure elements in the product cannot become contaminated inside the can.
As a result, your skin looks radiant while reaping the benefits of the skin care products!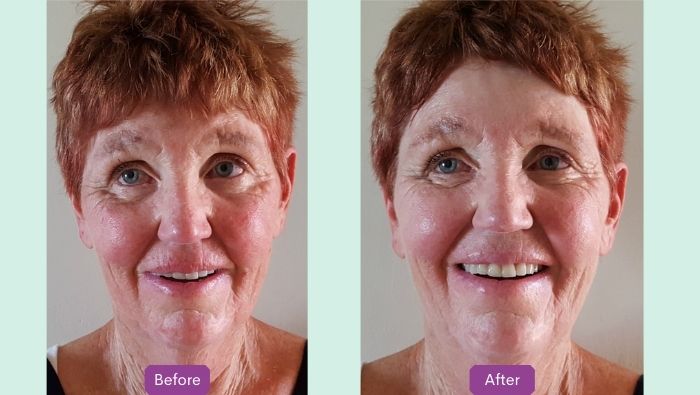 Glowing with NV!
Meet my best friend, Pat Bennett.
We have known each other since we were eleven. She was diagnosed with ALS in 2012, so this is her 8th year living with this horrible disease.
She can no longer speak but otherwise is doing amazingly well. She has been using the Luminesce skin care line and rarely wears makeup.
She was SO excited when the NV BB Perfecting Mist was released. She sprays the primer on, but applies the makeup (she uses #2 Cool Ivory) by spraying it on her fingers and smoothing over her face. Total time she spends, maybe 1 minute! I am so blessed to have her in my life…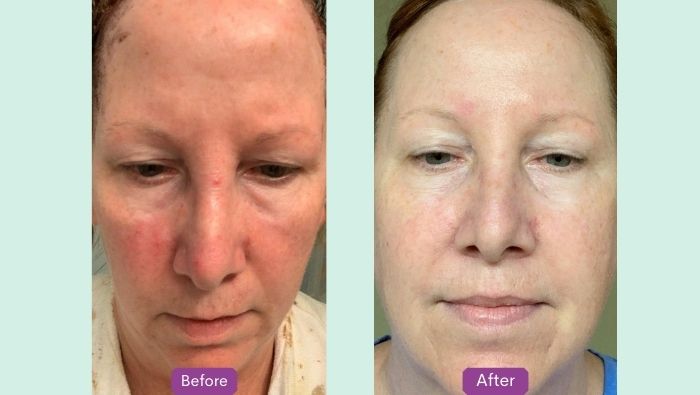 Bonus Benefit with the AM/PM Supplements
When Ellen asked to try the AM/PM supplements, it was because she wanted better sleep and more energy during the day.
What she didn't expect was for her rosacea to clear up! At first she thought maybe it was just a placebo effect, but when she finished with her 7 day AM/PM trial, her rosacea flared up again.
She purchased another week's worth and was delighted to see her face clear up again.  She is a very happy customer!
Amazing RVL Results…
I am so fortunate that my Mom lives 3 miles away and we talk every morning and evening…it might just be a quick "Hi, how was your day?" but we check in and I love it.
These photos were taken about 3 months apart from the time Mom started the RVL hair care system and she can't believe the difference, not only in the appearance, but the texture and health of her hair has taken on new life!
Another fabulous before and after story!
The eyes have it…
I never in a million years thought I could be so excited about lashes!
A friend introduced me to one of the most unique products I've seen…magnetic liner and lashes.
Beautiful, safe, affordable and INSTANT gratification! I'm wearing Ladies Night in the photo and love the effect each style brings to a woman!
One more product to help a woman look and feel her beautiful BEST!
Making their health a priority and living with an AGELESS attitude shows up in these smiles!
read more