OK…I get it….you are wondering "what in the world is a PFC muffin"…
There is a good chance if you pop in and read some of my blog posts, that you might find me referring to "eating PFC".
PFC is short for Protein…Fat….Carbohydrate and when these elements are in balance, so is your blood sugar. And when your blood sugar is in balance, you burn fat, have reduced cravings and are setting yourself up to win at improving your health.
These muffins have an ingredient that has become one of my favorite "tools" in my daily routine for keeping me on track and feeling great. Zen Fuze helped me create a perfectly balanced PFC muffin.
The menu and recipe planning software I use for my personal chef business calculates the nutritional information when I create a recipe so I can experiment with ingredients to achieve the results I'm after. It was several trial and error baking episodes before the flavor and texture finally came together.
And a note on the lemon extract. At first, I tried fresh zest, fresh lemon juice, Penzeys Lemon Peel and nothing gave enough lemon flavor. The first time I used lemon extract, I used some I had in my pantry that was a store brand and probably outdated (shame on me). It did the trick for acquiring the lemon flavor, but the muffins had a bitter aftertaste. I recommend using Penzeys Lemon Extract, or one from a reputable spice shop, it will make a difference I am sure. I made a comment in the recipe that I will try 3 teaspoons the next time….because I just love lemon!
And here's the numbers!
Per muffin: Calories 125  Protein 10.5 g (33.7%)  Fat 4.9 g (35.4%)  Carb 9.9 g (31.7%)
Please reach out if you have any questions or if you want more information on incorporating a PFC lifestyle for better health!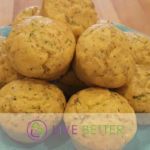 Print
Power Zen Lemon Zucchini Muffins
A perfectly balanced PFC muffin that is delicious and GOOD FOR YOU!
Ingredients
1

cup

Kodiak whole grain flapjack mix

2

scoops

Zen Fuze, vanilla bliss

contact me for information on this fabulous product!

1

tablespoon

chia seeds

6

tablespoons

hemp hearts

1/2

cup

Stevia

1/2

teaspoon

kosher salt

1

egg

3/4

cup

liquid egg whites

1/2

cup

almond milk, unsweetened

1

tablespoon

coconut, olive or avocado oil

1

tablespoon

lemon extract

1

medium

zucchini

grated
Instructions
Add the first 6 ingredients to a small bowl, stir to combine.

Add the remaining ingredients, except the zucchini to a larger bowl and mix well.

Add the grated zucchini to the wet mixture, stir and then add the dry ingredients.

Stir well to blend all of the ingredients.

Use a silicone muffin tray and portion into 12 muffins and place on a baking sheet.

Bake for 15 minutes, check and add 3-5 minutes if needed to feel firm to the touch.

Remove, cool and store in a plastic bag or container in the fridge or freezer.....
Notes
These are really great warmed in the microwave for 20 seconds....pour yourself a cup of coffee or tea and enjoy! Plus, they are a great snack anytime of day!