Happy Easter Sunday!
As of today…for those of you that might be reading this post sometime in the future…we are all still in the COVID 19 pandemic and have been in quarantine for a little over 3 weeks.
So far, my family is all in great shape, we are obeying the rules and I am the one in our tribe that goes out, but only when necessary.
One thing I have noticed at the grocery store, is the scarcity of flour…and yeast.
So is EVERYONE baking bread? It's sort of funny actually…to me anyway, because I consider myself a genuine NON BAKER and have had a bag of flour in my freezer for some time.
Don't get me wrong, you will find a few muffin recipes here on my blog of INSPIRATION, but those were designed and created because I had a specific goal in mind to create a healthy alternative for my clients that enjoy baked goods.
Truth be told, baking is really not my thing!
But I'm here to tell you, this No Knead Bread will make you look like a superstar baker…it's so easy and so delicious!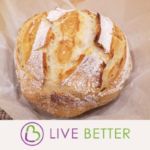 Print
No Knead Bread
Equipment
Heavy pot with a lid that can withstand a 450 degree oven...enameled cast iron is ideal.

Parchment paper
Ingredients
3

cups

all purpose flour

1 1/2

tsp

sea salt

2

tsp

dry active yeast

1 1/2

cups

warm water - 105 degrees
Instructions
In a large mixing bowl, add the flour, yeast and salt.

Add the the warm water to the flour mixture.

Using a spatula, stir just until it is all combined...it will be gooey.

Cover with plastic wrap and set aside for 8-24 hours...I put mine in the oven overnight or in the laundry room out of the way.

The mixture will about double in size and be "bubbly" on the surface at this point.

When ready to bake, place the pot with the lid on into the oven and set heat to 450....it is critical the pot goes in before you preheat!

While the oven is preheating, spread some flour onto a working surface, cutting board or counter and have a large piece of parchment paper near by.

Remove the plastic wrap from the bowl and sprinkle some flour over the surface of the bubbly dough, then scoop along the sides and pour onto the working surface.

Using both hands covered with some more flour, pick up the dough and "cloak it" into a ball by tucking and folding...it doesn't have to be perfect...if it gets sticky, add a bit more flour.

Set the ball of dough onto the parchment paper and lightly dust the top with flour.

Using a serrated knife, lightly score three slices across the top.

When the oven is to 450, carefully remove the lid off the pot and pick up the parchment paper and dough and set into the pot and replace the lid.

Set your timer for 30 minutes, then remove the lid and bake for 10 minutes longer. If you like your bread darker, add another 5 minutes.

Carefully lift the loaf out with the parchment paper and place on a cooling rack.

It will be hard to wait cutting into it, but wait at least 10 minutes to do so...if possible!